Insight into how the Surfside's Champlain Tower collapsed
An entire building or even partial building collapse in the U.S. is unusual, especially given today's stringent codes and standards that builders, construction workers, and building owners are obligated to maintain. Unfortunately, it does happen, as we all saw recently with the Champlain Tower in Surfside Florida collapse.
Why did it collapse? Why does any building collapse?
On June 24, 2021, a 12-story condominium in Surfside, Florida, a Miami suburb, collapsed while its tenants slept. The questions quickly poured in: How could a building this size just fall like that? What caused the collapse?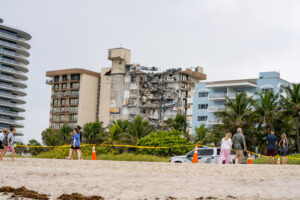 Investigations revealed that an elevated parking garage situated on exposed columns experienced structural failure. A column-to-slab interface on the parking deck failed. As the slab collapsed, it pulled the columns out from under the south tower; that's what began the domino effect that took the building down.
In the aftermath of the collapse, it came to light that there were years and years of reports from inspections noting that the exposed concrete was deteriorating. Condo management was reportedly aware of the issues and ignored maintenance schedules and calls for repairs.
Incidents like this show that buildings collapse when they aren't properly maintained. It demonstrates the importance of following through with necessary inspections, maintenance upkeep, and preventative measures. Protection like sealant and waterproofing are key to prevent building materials from getting wet, which can act as a catalyst for deterioration. These simple measures could prevent future building collapses.
Listen to our free webinar to learn more about building collapses and frequently asked questions about building maintenance